Geared stepper motors are perfect solutions for low speed and high torque positioning applications. GEMS provide NEMA size stepper motors that are paired with planetary gearbox and spur gearbox. Our design incorporates a square bodied motor and an round shape planetary stepper motor gearbox into a compact and cost-effective package. Our geared stepper motors are offered in six NEMA frame sizes (from NEMA 8 to NEMA 42) and each NEMA size motor has an integrated stepper motor gearbox with a wide range of gear ratios (from 1:3.7 to 1:369) so as to deliver any desired torque and speed combinations for your applications. The dual shaft version is available for you to install the brake, shaft coupler or an encoder where you need to keep track of the shaft position. 8-lead motor is aslo available upon request for all possible wiring configurations: bipolar, unipolar, series, or parallel. For higher speed and better speed control capability, please check out our brushless gear motors.
1.8° NEMA 8 GEARED STEPPER MOTOR WITH PLANETARY GEARBOX
NEMA8 is our smallest size of geared stepper motor. The 22mm diameter planetary stepper motor gearbox has gear ratio from 1:3.7 to 1:369. The gearbox output torque is up to 143 oz-in (1 Nm).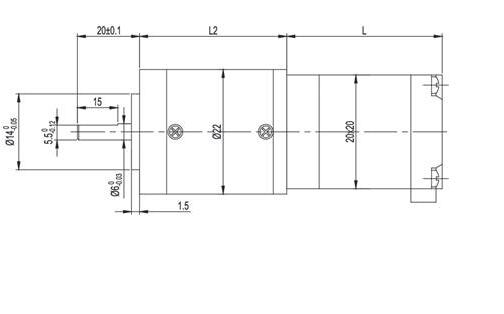 TABLE 1. MOTOR SPECIFICATIONS
Model Length L Rated Current Resistance Inductance Holding Torque Holding Torque Rotor Interia Lead wires Weight
mm A Ω/Phase mH/Phase Oz.in N.m g.cm2 g
17hs19-2004s 30 0.5 4.8 1.3 2.6 0.018 2.5 4 50
17hs162004s 42 0.5 7.5 2.4 3.6 0.025 4.5 4 90
TABLE 2. GEARBOX SPECIFICATIONS
Number of gear trains 1 2 3 4
Gear ratio 3.7, 5.2 14, 19, 27 51, 71, 100, 139 189, 264, 369
Length L2 mm 24.4 33 41.5 49.8
Rated output torque N.m 0.6 1 1.6 2
Max output torque N.m 1.8 3 4.8 6
Efficiency % 90 81 73 66
Weight g 35 45 55 65